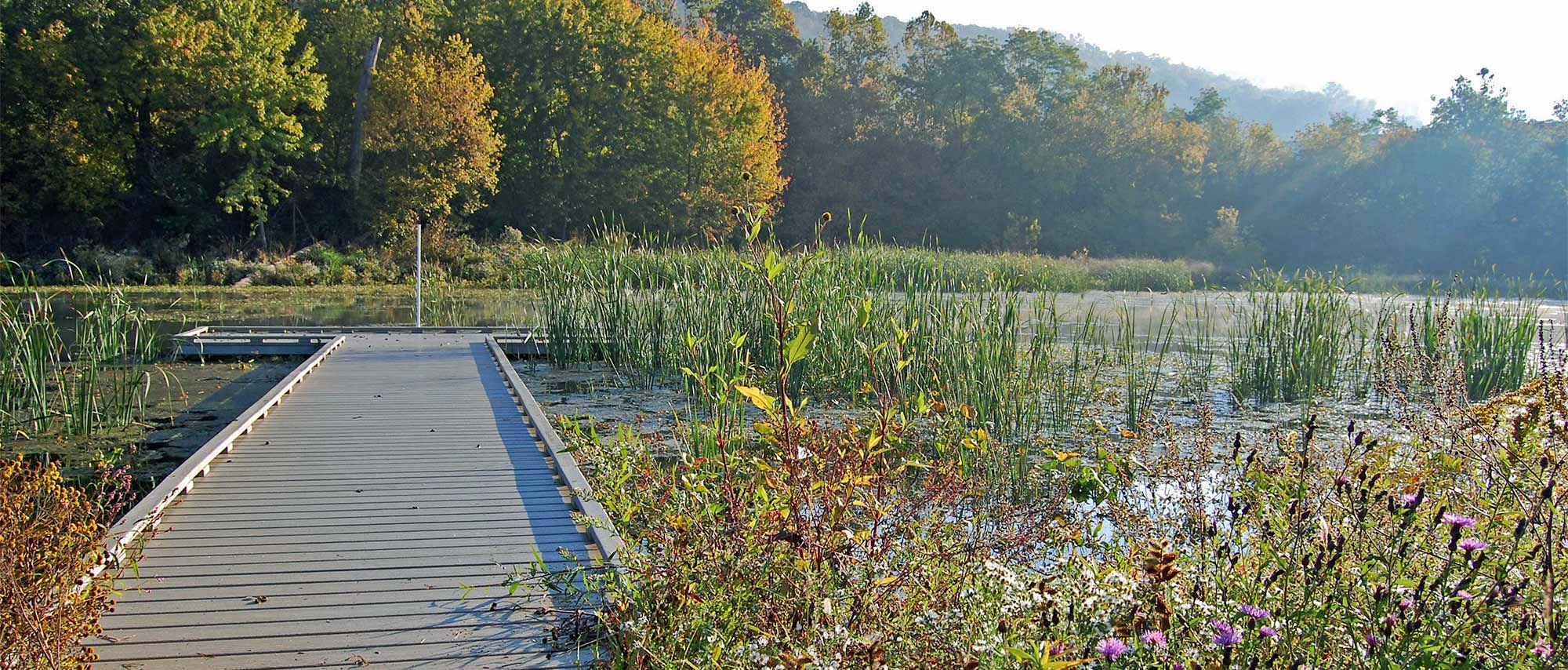 Replenish Projects and Volumetric Benefits within the Framework of the AWS Water Stewardship Standard
For companies with both replenish and AWS Standard certification ambitions, there can be a strong synergy between the two efforts. This can lead to greater efficiency of resources, stronger accountability of performance against volumetric benefit targets, and effective platforms for sharing success stories.
By Penelope Moskus, Senior Environmental Scientist (Ann Arbor, MI) and Saloni Dagli, Environmental Engineer (Washington, DC)
February 1, 2023
Since 2007, a growing number of corporations have committed to engaging outside their fenceline to 'balance' or 'replenish' their water consumption by supporting external water stewardship projects. Examples of publicly shared replenish targets include:
Coca-Cola: Maintain at least 100% global replenishment of the water used in our finished beverages through contextualized interventions for operations, communities, and watersheds.
Google: Replenish 120% of the water consumed, on average, across offices and data centers and help restore and improve the quality of water and health of ecosystems in the communities where Google operates.
Diageo: Replenish more water than we use for our operations for all of our sites in water-stressed areas by 2026.
The volumetric water benefit (VWB), or volume replenished, is calculated as "the volume of water resulting from water stewardship activities, relative to a unit of time, that beneficially modifies the hydrology and/or helps reduce shared water challenges, improves water stewardship outcomes, and meets the targets of Sustainable Development Goal 6" (Reig et al., 2019). Examples of replenishment projects include reforestation; leak reduction; irrigation and efficiency improvements; water access sanitation and hygiene (WASH) improvements; and wetland restoration.
Many companies with replenish ambitions have also implemented the AWS Standard at some of their sites. In some cases, companies have replenish targets in place before engaging with the AWS Standard. For others, implementation of the AWS Standard catalyzed broader stewardship efforts at a company, including setting a replenish target.
Many companies with replenish ambitions have also implemented the AWS Standard at some of their sites.
In either case, there can be a strong connection between a company's commitment to implement replenish projects and the implementation of the AWS Standard.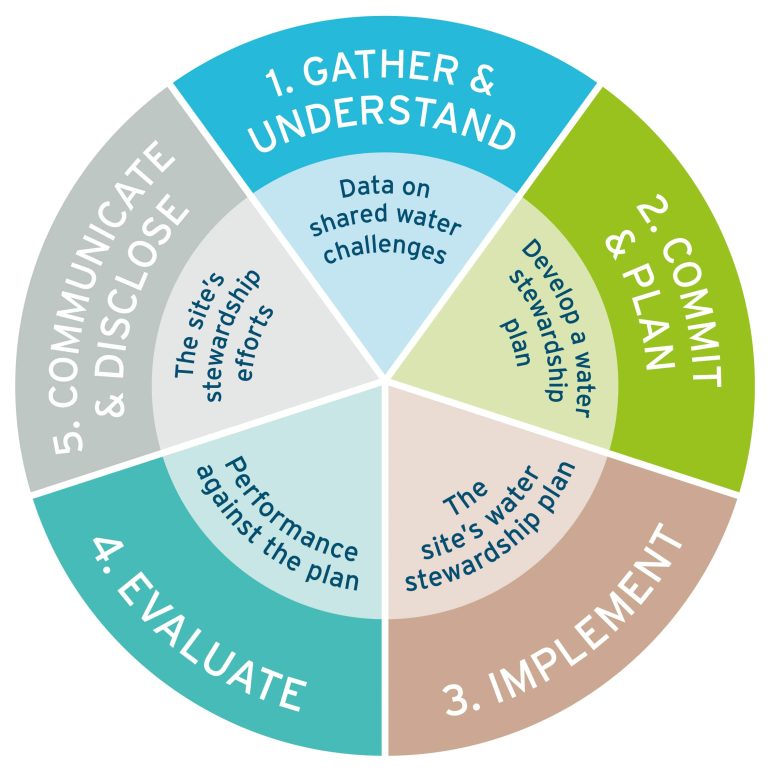 The standard provides a robust framework where replenish activities can be developed, tracked, monitored, and recognized:
Under Step 1: Gather and Understand, a site learns about shared water challenges such as scarcity, water quality, ecosystem degradation, or lack of access to clean water. Replenish projects should relate to the local context and address one or more of the relevant regional shared water challenges and Sustainable Development Goals (SDGs). There should be alignment between the project outcomes and basin needs. Step 1 also involves stakeholder identification and outreach, which may lead to connections with potential implementing partners for local replenish projects.
Under Step 2: Commit and Plan, the site's water stewardship strategy and plan may include objectives and SMART (Specific, Measurable, Achievable, Realistic, and Time-based) targets related to the company's replenish commitment. Relevant targets within the plan may primarily relate to improving a catchment's water balance. However, they may also recognize multi-benefits of replenish projects related to water quality, protection or improvement of important water-related areas or providing safe water, sanitation, or hygiene (WASH) services
Under Step 3: Implement, as replenish projects are implemented, the volumetric benefits are quantified and tracked against the targets established in the water stewardship plan. The VWB is the key metric for tracking and demonstrating the status of progress toward meeting water balance targets set in the water stewardship plan.
Under Step 4: Evaluate, a company evaluates the site's performance in light of replenish project implementation as they connect to targets in the water stewardship plan. Companies can also document the shared value benefits in the catchment that are a result of these projects.
Under Step 5: Communicate and Disclose, a company that has implemented replenish projects has the opportunity to share success stories, encourage project scaling and promote collective action.
A key element of connecting replenish program efforts to AWS Standard implementation is using scientifically defensible methods to quantify the benefits of each project. The Volumetric Water Benefit Accounting (VWBA) methodology is the primary guidance document that companies use to quantify and communicate the volumetric water benefits of their investments and commitments. VWBA meets a critical need in the corporate water stewardship space by providing a common standardized and science-based method for assessing the benefits of water stewardship activities in a comparable way. It also helps to ensure that water stewardship activities address current or projected water challenges. and contribute to public policy priorities.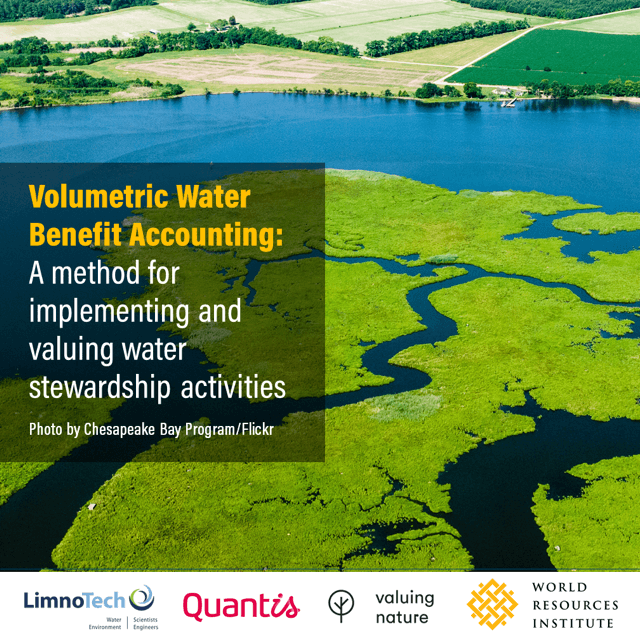 In the early days of replenish benefit quantification, LimnoTech developed and published the foundational concepts and methods for quantifying volumetric water benefits in collaboration with The Nature Conservancy (TNC). We then collaborated with the World Resources Institute (WRI) to formally publish the VWBA methodology. Over the past 15 years, we have applied VWBA to quantify and document replenish benefits of hundreds of projects around the world. Within the context of AWS water stewardship plan development and implementation, we have also helped companies with replenish target setting, engaging site teams in the process of scoping and selecting water stewardship projects that address shared water challenges, annual quantification and tracking of water stewardship projects, and synthesis reporting to summarize completed projects.
For companies with both replenish and AWS Standard certification ambitions, there can be a strong synergy between the two efforts. This can lead to greater efficiency of resources, stronger accountability of performance against volumetric benefit targets, and effective platforms for sharing success stories.
If you want to discuss your water stewardship, volumetric water benefit accounting (VWBA), replenish, or AWS Standard implementation needs, please get in touch with Penelope Moskus at pmoskus@limno.com.
This article is the sixth in a series of articles authored by LimnoTech staff on water stewardship. Follow us on LinkedIn or Twitter (@LimnoTech), and check our website's Insights & Perspectives page for more information and updates.

Links to the other water stewardship articles in this series are provided below:
The Alliance for Water Stewardship Standard – Framing a Decade of Water Stewardship
Understanding and Engaging Water-Related Stakeholders
Assessing Water-Related Risk As A Foundation For Stewardship
Success Strategies for Developing a Site Water Stewardship Plan within the AWS Standard Framework
Strong Site Teams Lead To Successful Water Stewardship
Penelope Moskus is a Senior Environmental Scientist and Project Manager with over two decades of experience. She supports LimnoTech's water sustainability consulting services, helping clients develop strategies, guidance, and tools to reduce water-related risks. For over a decade, she has evaluated volumetric and complementary benefits of potential and funded projects and annually supports corporate reporting for numerous companies. She has supported Coca-Cola's replenishment program for over a decade and supports its 2030 Water Security Strategy. She provides similar services for a wide range of clients, including global and local NGOs, food and beverage companies, energy providers, high-tech companies, agricultural providers, and a national supermarket chain. Penelope is an accredited consultant for AWS International Water Stewardship Standard and contributed to a landmark paper on Volumetric Water Benefit Accounting.
Saloni Dagli, PE, is an Environmental Engineer with expertise in corporate water stewardship and sustainability, stormwater management, green infrastructure, integrated planning, data analysis and management, and environmental justice. Saloni has supported corporate water stewardship clients from a range of sectors (tech, hospitality, food and beverage) by conducting stakeholder mapping, project scoping, water risk assessments, and volumetric water benefit evaluations. Saloni is a Professional Credentialed Specialist Consultant for the application of the AWS Water Stewardship Standard. She has worked with the tech business sector in implementing and auditing the standard.
The content herein is the author's opinion and not published on behalf of the Alliance for Water Stewardship (AWS). The author holds an AWS Professional Credential and this piece of publishing helps fulfill their Continuing Contribution Units requirements. For more information about AWS or the AWS Professional Credentialing Program please visit https://a4ws.org/.