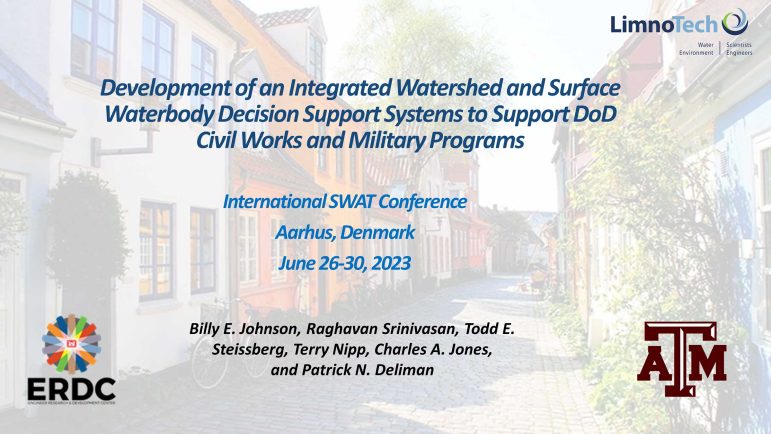 June 26, 2023
Billy Johnson, PhD, PE, Senior Scientist at LimnoTech, is participating in the 2023 Denmark International Soil and Water Assessment Tool (SWAT) Conference and Workshops at Aarhus University Department of Ecoscience this week. The conference and workshops are organized in collaboration with the US Department of Agriculture, Agricultural Research Service (USDA-ARS) and Texas A&M AgriLife Research. The organizers note, "The conference has become the most important scientific gathering for international experts and institutions in the field of river basin management." Topics covered at the conference include climate change applications; best management practices (BMPs); pesticides, Bacteria, metals, and pharmaceuticals; model development; SWAT+; and much more.
At the conference, Billy is moderating a session on "Integrating Process-Based Models and Data Science Methods for Environmental Analysis and Design." Billy will also be giving a presentation during this session titled "Development of an Integrated Watershed and Surface Waterbody Decision Support Systems to Support DoD Civil Works and Military Programs." The presentation is co-authored by Raghavan Srinivasan (Texas A&M University), Todd E. Steissberg (USACE), Terry Nipp (AEGIS), Charles A. Jones (Texas A&M University), and Patrick N. Deliman (USACE). The presentation will cover how "Texas A&M will work with the USACE-ERDC and LimnoTech to integrate the hydrologic watershed and landscape modeling capabilities of SWAT with ERDC's CE-QUAL-W2 Reservoir Model and the Clearwater 1D/2D Riverine Water Quality Model to provide a system-wide approach to water quality management." This effort will include a research component to support modeling complex water quality cycles, emphasizing Harmful Algal Blooms (HABs) and other historic and emerging contaminants of concern.
Do you have questions or want more information? You can reach out to Billy Johnson at bjohnson@limno.com.
You can also check out LimnoTech's work in Water Resources Modeling, Water Resource Investigation and Management, and Harmful Algal Blooms.