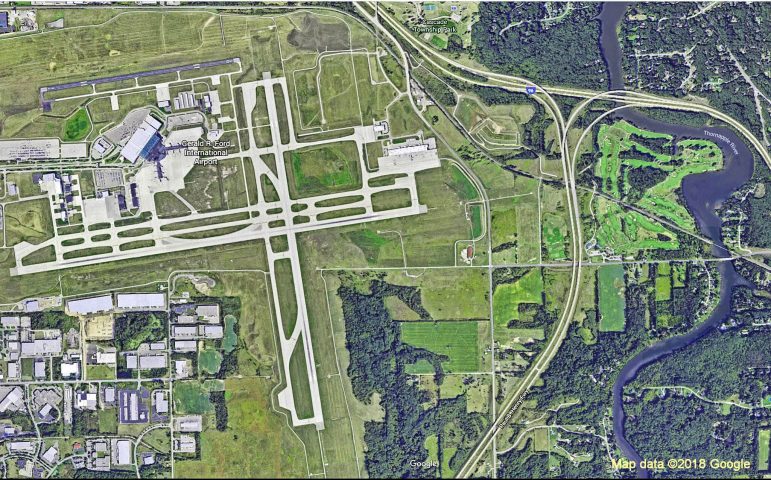 March 12, 2018
For almost two decades, LimnoTech has been part of a team (Prein&Newhof, CH2M, Mead & Hunt, Barnes & Thornburg, Naturally Wallace, Kamminga & Roodvoets) supporting deicing and stormwater management projects at Gerald R. Ford International Airport. One element of the work included the construction of a Natural Treatment System (NTS) for treating airfield and deicing runoff. This project recently received recognition when the Gerald R. Ford International Airport Authority was selected as the winner of the Jay Hollingsworth Speas Airport Award for 2018. The award is jointly sponsored by the American Institute of Aeronautics and Astronautics (AIAA), the American Association of Airport Executives (AAAE), and the Airports Consultants Council (ACC). According to the AIAA, "The award is presented annually to the nominee(s) judged to have contributed most significantly in recent years to the enhancement of relationships between airports and/or heliports and their surrounding environments via exemplary innovation that might be replicated elsewhere." The citation for this award is:
"For an innovative and sustainable stormwater and deicing treatment system that provides an example to other airports in meeting operational, regulatory and community needs."
Congratulations to the Gerald R. Ford International Airport Authority, and to all team members for being recognized for exceptional work!
We would like to also acknowledge and thank Chris Cieciek for his excellent work serving as the project manager and leader for LimnoTech's contributions to this effort. If you have any questions about LimnoTech's work supporting the deicing and stormwater management programs at the Gerald R. Ford International Airport, please feel free to contact Chris.