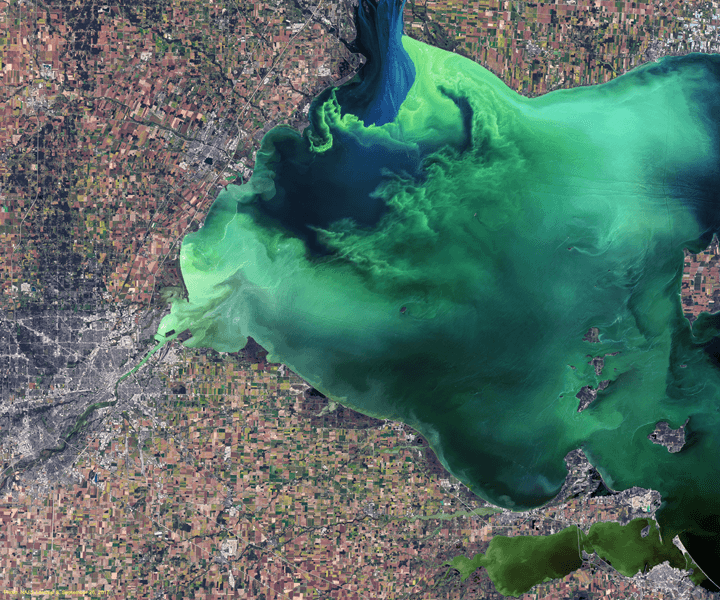 Photo Credit: NASA Landsat 8, September 26, 2017
July 31, 2018
Derek Schlea and Chelsie Boles will be presenting at the American Society of Agricultural and Biological Engineers (ASABE) Annual Meeting in Detroit, Michigan on August 1, 2018. ASABE is an educational and scientific organization dedicated to the advancement of engineering applicable to agricultural, food, and biological systems.
Chelsie's presentation is titled "Assessing the Maumee River Watershed for Targeted Wetland Placement." She will discuss an ongoing LimnoTech project designed to integrate publicly available data and environmental modeling to identify and prioritize watersheds within the greater Maumee Basin for their suitability as sites for wetlands designed to mitigate phosphorus loading to Lake Erie and other water resources. LimnoTech co-authors for Chelsie's presentation are Derek Schlea, Scott Bell, Greg Peterson, and Brian Lord. Her presentation will be August 1, at 10:35 am.
Derek's talk is titled "Using Linked Watershed-Lake Models to Evaluate the Environmental Benefits associated with 4R Nutrient Stewardship in the Western Lake Erie Basin." Derek will describe how the LimnoTech project team is evaluating the impacts of adopting practices associated with 4R Nutrient Stewardship, an approach to reduce nutrient losses from farm fields by using the "right" agricultural fertilizer application techniques. Co-Authors are Todd Redder, Chelsie Boles, and Joseph DePinto of LimnoTech, and Kevin King of USDA Agricultural Research Service. His presentation will be August 1, at 11:50 am.
ASABE 2018 presents a forum to expand awareness of current industry trends, promote and acknowledge innovations in design and technology, and provide opportunities for professional development—all with a focus on the economic, political and societal impacts facing the industry. Stop by to talk to Derek and Chelsie if you attend the conference, or E-mail them at dschlea@limno.com and cboles@limno.com to learn more about our work.