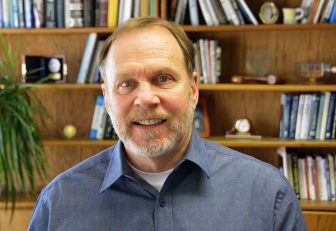 July 2, 2020
Paul Freedman, LimnoTech's co-founder and CEO, was announced as a member of the 2020 group of engineers elected to the prestigious National Academy of Engineering (NAE). Paul is recognized for his contributions to the development and application of science-based computer models for water body and watershed assessment, remediation, and management. He will be formally inducted during a ceremony at the NAE's annual meeting in Washington, DC, on October 4, 2020.
The NAE is a nonprofit institution with more than 2,000 peer-elected and international members. The members, among the world's most accomplished engineers, are senior professionals in business, academia, and government. The elected members provide leadership and expertise for projects focused on the relationships between engineering, technology, and the quality of life. The NAE is part of The National Academies of Sciences, Engineering, and Medicine (NASEM). The NAE operates under the same congressional act of incorporation that established the National Academy of Sciences, signed in 1863 by President Lincoln. Under this charter the NAE is directed "whenever called upon by any department or agency of the government, to investigate, examine, experiment, and report upon any subject of science or art."
Election to the NAE is among the highest professional distinctions accorded to engineers. The NAE states that membership honors those who have made outstanding contributions to "engineering research, practice, or education, including, where appropriate, significant contributions to the engineering literature" and to "the pioneering of new and developing fields of technology, making major advancements in traditional fields of engineering, or developing/implementing innovative approaches to engineering education."
Paul co-founded LimnoTech in 1975 with other University of Michigan researchers, and since then has shepherded its growth to become one of the country's leading water science and engineering firms. Throughout Paul's career, he has continually emphasized and pushed for innovation and advances in science and technology, helping to shape the modern evolution of environmental engineering. He has provided guidance and leadership for LimnoTech on more than 3,500 water projects throughout the U.S. and internationally. Paul has been a pivotal player in the advancement of new environmental technology and water policy, and has contributed to the development of the water science and engineering field through participation and leadership in professional organizations.
We congratulate Paul on this honor, and we look forward to his continued leadership here at LimnoTech.
Additional Reading