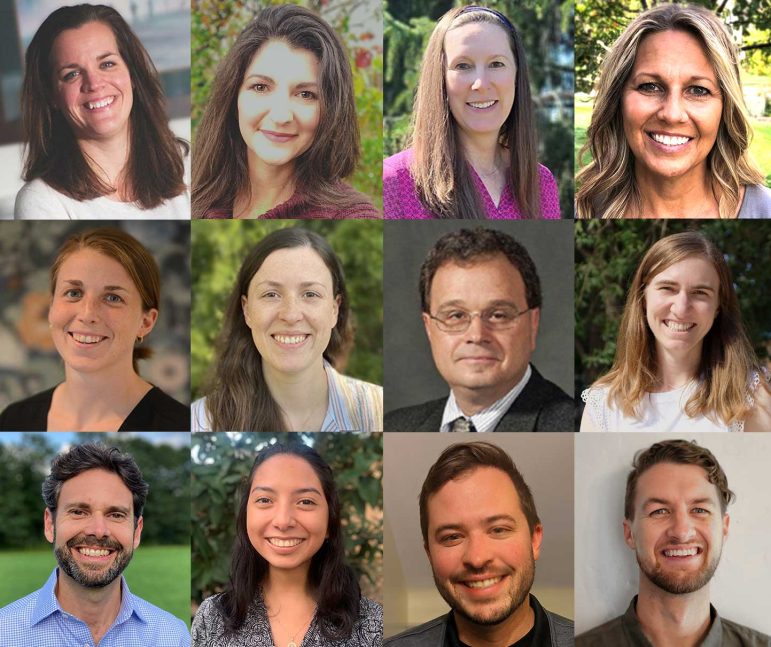 November 16, 2021
It's been a busy last year and a half with several new staff bringing their exceptional talent and expertise to LimnoTech's work and clients. We are thrilled to take a moment to introduce and highlight the newest members of the LimnoTech Team.
Hydrogeologist Jessica Bleha joined LimnoTech in April of 2020. Jess' areas of expertise include hydrogeological assessments of surface and groundwater resources; environmental site assessments; conceptual modeling; data management systems; mine remediation; permitting; inventory of orphaned oil and gas wells; and monitoring well, soil boring, and remediation system installations. Jess is a key member of our PFAS team and has been involved in PFAS investigations across Michigan and Ohio concerning impacts in groundwater, soil, and stormwater from the past use of aqueous film-forming foam. Jess has a Bachelor's and Master's degree in Geological Sciences from the University of Michigan and the University of Montana.
Kate Blumhardt began her role as our Marketing and Proposal Coordinator in December of 2020. Kate's background includes integrated marketing communications and experience coordinating healthcare proposals, contracts, and data procurement. We are excited about the experience Kate brings in process improvement, strategic planning, analytics, project management, digital marketing, graphic design, and information architecture. Kate graduated with a Bachelor of Science in Education and a Master of Science in Integrated Marketing Communications from Eastern Michigan University.
Heather Woodman is an Administrative Assistant who began working at LimnoTech in March of 2021. She has 30 years of experience in customer support and management. Heather provides administrative support to our accounting and technical staff and helps keep our offices running smoothly. Heather graduated from the University of Michigan with a Bachelor of Science in Dental Hygiene.
In May of 2021, Deena Maloney also joined LimnoTech as an Administrative Assistant. Deena has 20 years of experience in customer support and management. Deena provides administrative support to our accounting and technical staff and helps keep all of our offices operating well. Deena has a Bachelor of Science in Dental Hygiene from the University of Michigan. Prior to attending the University of Michigan, Deena worked for TRW for 12 years in accounting and sales.
Environmental Engineer, Sarah Jordan, joined our Central Regional office in late May of 2021. Her areas of expertise include corporate water stewardship, watershed modeling, water system optimization, reservoir management, risk and uncertainty analysis, stochastic hydrology, and data analysis. Sarah is a key member of our sustainability team. Sarah has a Master of Science degree in Civil Engineering from the University of Virginia with a focus on Water Resources and Environmental Engineering and a Bachelor of Arts degree in Geology from Carleton College.
Environmental Scientist, Dani Cohn, started with LimnoTech in June 2021, after completing her Master of Science degree in Environmental Science at the University of Michigan School for Environment and Sustainability (SEAS). Dani's background is in earth and physical sciences, covering a wide range of topics from physics and atmospheric science to human geography and hand cartography. She is currently working with the water stewardship team developing maps to support water risk assessments and water quantification methodologies. Dani has also assisted in R coding and data analysis work.
Billy Johnson, PHD, officially joined our LimnoTech Team as a Senior Scientist in August 2021. He has 30+ years of experience in developing and applying riverine and watershed models in support of hydrologic and flood studies. Billy serves a senior technical and advisor role on complex projects involving watershed and riverine water quality and contaminant models. Billy brings with him a broad range of expertise in water resources, including successful leadership of projects involving the development and application of sediment, nutrient, contaminant, and riparian vegetation simulation modules for civil works and military projects. He led research and development activities involving the creation of Nutrient Sub-Model (NSM) within the Ecosystem Management and Restoration Research Program (EMRRP) and the creation of Contaminant Simulation Module (CSM) within the U.S. Army Environmental Qualities Technology (EQT) Research Program. Billy also led the effort to develop a Riparian Vegetation Simulation Module (RVSM) that dynamically simulates the growth and mortality of riparian vegetation as a function of flow, sediment, and nutrient uptake. Billy is a key team member supporting federal clients on water quality, hydrologic, and hydraulic modeling projects. Billy currently resides and works in Vicksburg, Mississippi.
Also, in August 2021, Project Scientist Kathryn Meyer became part of the LimnoTech Team at our Southern California office after previously working as a scientist at the U.S. Environmental Protection Agency. Kathryn has experience in community engagement and outreach, which she developed while working for the Arctic Data Center at the National Center for Ecological Analysis and Synthesis. Kathryn's areas of expertise include ecotoxicology, water quality monitoring, and data analysis and management. Kathryn earned a Bachelor of Science degree from American University and a Master of Science degree from the University of Michigan's School of Natural Resources and Environment.
Dave Hampton, a Senior Resiliency and Climate Adaptation Planner joined us in September 2021. Dave has 25 years of experience as a planner and architect, is an expert in coastal resilience and ecological approaches, including nature-based solutions, and is a leader in the climate change adaptation community of practice. As a Latino practitioner fluent in Spanish, Dave has prioritized helping communities of color and other at-risk populations turn climate vulnerabilities into opportunities for building adaptive capacity throughout his career. Dave is a member of the American Society of Adaptation Professionals and is a graduate of Virginia Tech and the Harvard Graduate School of Design. Dave is located just outside of Boston, Massachusetts.
Environmental Engineer, Diana Teran, started with LimnoTech in October 2021 at our Mid-Atlantic office. Diana is a recent graduate of Colorado School of Mines, earning a Bachelor of Science degree in Environmental Engineering. As a GEM Lab Research Assistant, she participated in projects that dealt with wastewater issues and wetlands. Diana was also an active member of the National Society of Black Engineers and Society of Hispanic Engineers while attending Colorado School of Mines. She is currently supporting projects focused on Engineering with Nature and corporate water stewardship.
James Hartrick started with LimnoTech as an Environmental Engineer in November 2021 at our Ann Arbor office. James is a recent graduate of Wayne State University, majoring in Civil and Environmental Engineering. He provides support to a variety of field operations, including sampling wastewater for COVID-19. James also supports LimnoTech's work with the AWS Water Stewardship Standard certification. James is passionate about water stewardship, sustainability, and environmental justice, especially in relation to the built environment. His previous technical work includes modeling groundwater and rivers and environmental monitoring in urban settings.
Project Scientist Rodney Feddema joined LimnoTech in November 2021 at our Southern California office. Rodney previously worked at Wood Environment & Infrastructure Solutions where he studied the impacts of erosion and sedimentation on coastal lagoons, evaluated the feasibility of recycling stormwater runoff for municipal use, and helped implement green infrastructure BMPs. Rodney has combined his technical skills in hydrological modeling, ArcGIS, R, and Python with his experience in stakeholder engagement, project management, and technical writing to help solve complex and interdisciplinary water resources problems.
Welcome to the LimnoTech Team, Jess, Kate, Heather, Deena, Sarah, Dani, Billy, Kathryn, Dave, Diana, James, and Rodney! Whether you've been with us for a while and are not so new or you just recently joined us, we look forward to working together to serve and support our clients on all things water-related.