Success Strategies for Developing a Site Water Stewardship Plan within the AWS Standard Framework
A foundational element of the five-step AWS Standard, continual improvement framework, is the development of a site water stewardship plan.
By Laura Weintraub, Vice President (Ann Arbor, MI) and Nate Jacobson, Environmental Scientist (Ann Arbor, MI)
January 25, 2023
The AWS Water Stewardship Standard (AWS Standard) is a robust, internationally-recognized framework and certification for organizations to demonstrate a commitment to water stewardship. A keystone element of the five-step, continual improvement framework is the development of a site water stewardship plan (Step 2. Commit & Plan). In LimnoTech's work with companies across a range of sectors, who are ambitiously applying the AWS Standard to drive a positive change, we've noted some strategies that have helped sites navigate a path toward success.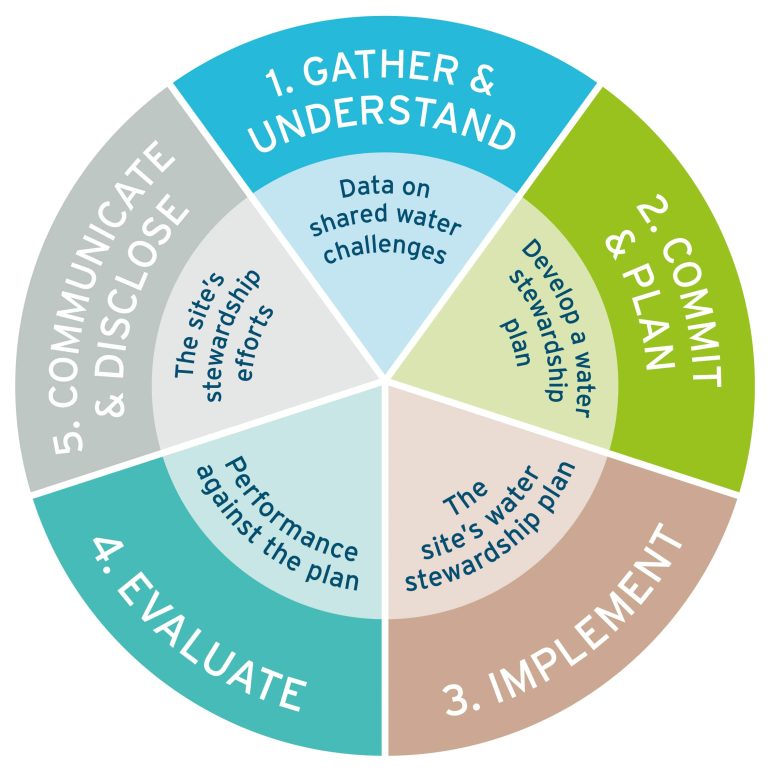 Learn and then Plan
The rigorous information collection effort of Step 1 (Gather & Understand) of the AWS Standard provides sites with an opportunity to learn. Sites take a closer look at how they touch water and the health of the catchment where they operate in terms of water quantity and quality. Sites engage with important water-related stakeholders to understand their concerns and learn about their actions. These Step 1 activities identify gaps in the site water balance, assess the site's preparedness for water emergencies, evaluate water risks to the site, consider shared water challenges, and build relationships with stakeholders who are active in helping address these challenges. This learning step is a critical foundation for building an impactful water stewardship plan that relates to site risk, shared water challenges, and desired water stewardship outcomes.
Engage the Experts
An engaged and multi-disciplinary site team is a critical component of a successful water stewardship site plan. They have local knowledge of the site and the community and often carry a passion for water. Workshop-style discussions with these experts will lead to a greater understanding of water-related activities that were done in the recent past, are currently ongoing, or are planned for the future.
An engaged and multi-disciplinary site team is a critical component of a successful water stewardship site plan.
This group is also critical for generating water stewardship plan ideas that could help reduce site water risk and contribute to the reduction of regional shared water challenges. Most importantly, this is the team who will be implementing the plan. Their involvement in plan development is critical to ensure that all objectives and targets are relevant, achievable, and actually implemented after the plan has been finalized.
Start Onsite to Get the House in Order and then Look Outwards
Site water stewardship plans typically include a mix of onsite actions and initiatives in the local catchment and/or community. First, identify opportunities at the site level. These may include activities related to auditing the site for water leaks, implementing efficiency measures, upgrading water quality treatment processes, or improving stormwater management. In addition, some sites benefit from intentional employee education about water management and stewardship. Along with actions to "get the house in order," most sites look outwards to the watershed, community, and supply chain. To look outwards, a water stewardship plan may include objectives that support local restoration efforts, implementation of programs to provide water access to communities, engagement with supply chain vendors, or multi-sector collaborations to improve water governance.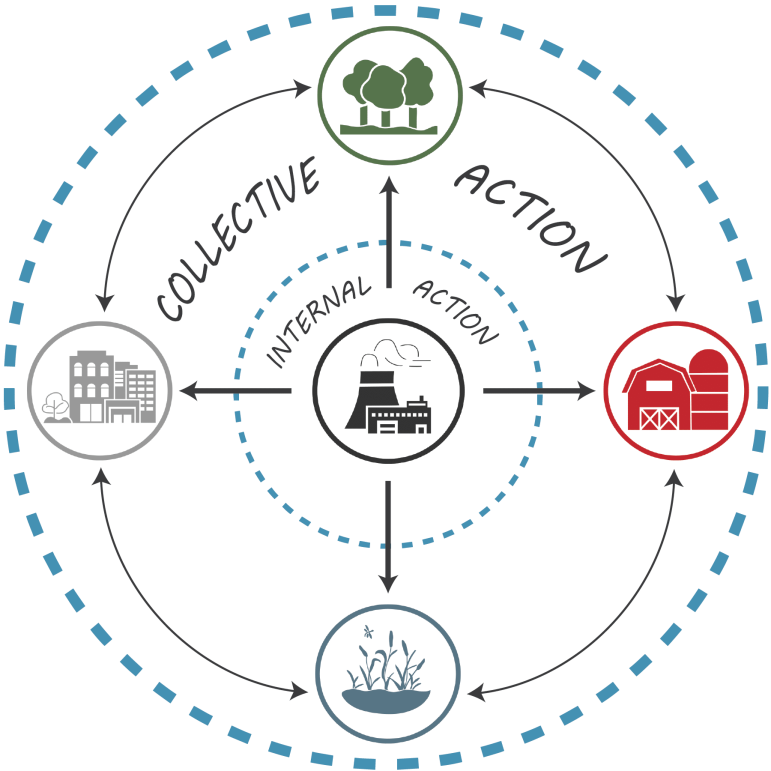 Be "SMART" with your Goals and Targets
A key requirement of a site's water stewardship strategy and plan is that the elements help address identified risks and opportunities and include actions that consider the Five AWS Outcomes: good water governance, sustainable water balance, good water quality status, important water-related areas (IWRAs) and safe water, sanitation and hygiene for all (WASH). The AWS Standard also requires that site water stewardship plans use SMART goals: Specific, Measurable, Achievable, Realistic, and Time-based.
These requirements ensure that the water stewardship ambitions that a site defines are relevant, likely achievable, and structured in a way to provide accountability. In a tabular format for the water stewardship plan, sites can explain the following:
a key objective,
specific short- and long-term targets,
metrics for tracking progress,
anticipated timeframe and resources needed to achieve each target, and
designation of team members responsible for actions and achieving the targets.
Each objective and target should include documentation of how it links to AWS Outcomes, site risk, local shared water challenges, and any key principles or specific targets in corporate-level water stewardship strategies (e.g., corporate-level volumetric water replenish programs).
Focus on Continual Improvement
The site water stewardship plan is not a "one-off" effort. The AWS Standard framework strongly emphasizes continual improvement. As tennis legend, Arthur Ashe said, "Start where you are. Use what you have. Do what you can."
These words should be kept in mind when embarking on developing a site water stewardship plan. It is important to build upon the work done in the past, leverage the knowledge of subject matter experts on the site team, and apply the learnings from Step 1 of the AWS Standard process to identify what is most important to tackle next. It is perfectly reasonable to think about smaller steps towards larger goals. Build the plan in an ambitious but flexible and manageable way. As step-by-step wins are realized, the site's water stewardship goals, targets, and ambitions can grow and expand at a pace that still allows for success.
Start where you are. Use what you have. Do what you can.

Arthur Ashe
If you want to discuss your water stewardship or AWS Standard implementation needs, please get in touch with Laura Weintraub at lweintraub@limno.com.
This article is the fourth in a series of articles authored by LimnoTech staff on water stewardship. Follow us on LinkedIn or Twitter (@LimnoTech), and check our website's Insights & Perspectives page for more information and updates.

Links to the other water stewardship articles in this series are provided below:
The Alliance for Water Stewardship Standard – Framing a Decade of Water Stewardship
Understanding and Engaging Water-Related Stakeholders
Assessing Water-Related Risk As A Foundation For Stewardship
Strong Site Teams Lead to Successful Water Stewardship
Replenish Projects and Volumetric Benefits within the Framework of the AWS Water Stewardship Standard
Laura Weintraub, PE, is a Vice President and Water Resource and Environmental Engineer with over 25 years of experience supporting public, private, and research clients in the areas of watershed planning, water sustainability, stormwater management, source water protection, and decision-support system development. She currently co-directs LimnoTech's corporate water stewardship practice area, where she supports numerous companies in tech, food & beverage, manufacturing, electric power, agriculture, and other sectors. Laura leads projects to support sustainability-focused companies with water stewardship strategy and target setting; water stewardship program development and implementation; water accounting, footprinting, and circularity assessments; context-based water risk assessments; replenish project scoping and benefit quantification; Alliance for Water Stewardship Standard training and certification; and sustainability reporting. She has also led efforts to evaluate water risk and sustainability metrics, assess opportunities for alternative (degraded) water supply use, and quantify the economic costs and benefits of water stewardship projects implemented outside the fenceline of an organization's operational boundaries.
Nate Jacobson is an Environmental Scientist with expertise in corporate water stewardship and sustainability, biological services, stormwater management, and data management and analysis. Since joining LimnoTech in 2015, Nate has worked on a wide variety of projects for many different client sectors, including project scoping and volumetric water benefit quantification, water risk assessments, water stewardship plan development, and stakeholder mapping. Nate is a Professionally Credentialed Specialist Consultant for applying the AWS Water Stewardship Standard and has worked both in implementing and auditing the standard.
The content herein is the author's opinion and not published on behalf of the Alliance for Water Stewardship (AWS). The author holds an AWS Professional Credential and this piece of publishing helps fulfill their Continuing Contribution Units requirements. For more information about AWS or the AWS Professional Credentialing Program please visit https://a4ws.org/.