A LimnoTech smart buoy floats off of Cleveland, Ohio, to provide real-time observations of weather and water quality conditions.
It's all about the Buoys: Celebrating a Decade of Smart Buoys in the Great Lakes
By Ed Verhamme, Environmental Engineer, LimnoTech
June 24, 2021
ANN ARBOR, Mich. – This spring LimnoTech celebrated its 10th season of deploying smart buoys in the Great Lakes and in lakes and estuaries across the country. These buoys have become an integral part of millions of people's lives across the Great Lakes region. A network of buoys and land-based stations are used by area boaters, fishermen, search and rescue crews, weather forecasters, drinking water treatment plant operators, and nuclear power plants to assess weather, waves, and water quality conditions on the lakes. This network has become one of the largest privately managed buoy observation networks in the country.
When LimnoTech launched its first smart buoy in 2011, near St. Joseph, Michigan, only the US Coast Guard, NOAA, and a few universities had vessels large enough to deploy the massive several-ton buoys in the middle of each Great Lake. Lead engineer at LimnoTech, Ed Verhamme, explains how it all got started. "By partnering with the University of Michigan, a nuclear power plant on Lake Michigan, and S2 Yachts in Holland, Michigan, we were able to deploy a lighter fiberglass buoy with our much smaller 23-foot boat." This new trend towards smaller and lighter buoys drastically reduced the cost and effort to add new smart buoys along the shoreline of the Great Lakes. Over the next several years, LimnoTech worked to bring new smart buoys to other cities across the region, including South Haven and Port Sheldon on Lake Michigan and Toledo and Cleveland on Lake Erie.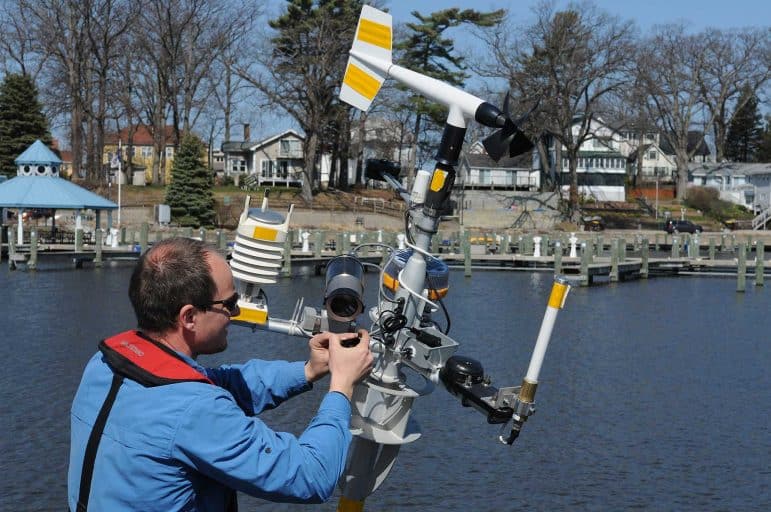 Environmental Scientist Greg Cutrell works on a smart buoy deployment in South Haven, Michigan.
In addition to monitoring basic weather conditions such as wind speeds and wave heights, LimnoTech has pushed the limits of technology by adding sensors that monitor water currents, dissolved oxygen levels, harmful and toxic algae, fish movements, bat activity, and high definition 4k webcams. LimnoTech shares the real-time observations from the buoy network with the NOAA National Weather Service, the US Coast Guard, and other federal, state, and local agencies. These observations may be utilized by search and rescue crews and to inform and protect operators of critical water-based infrastructure, commerce, and recreational users.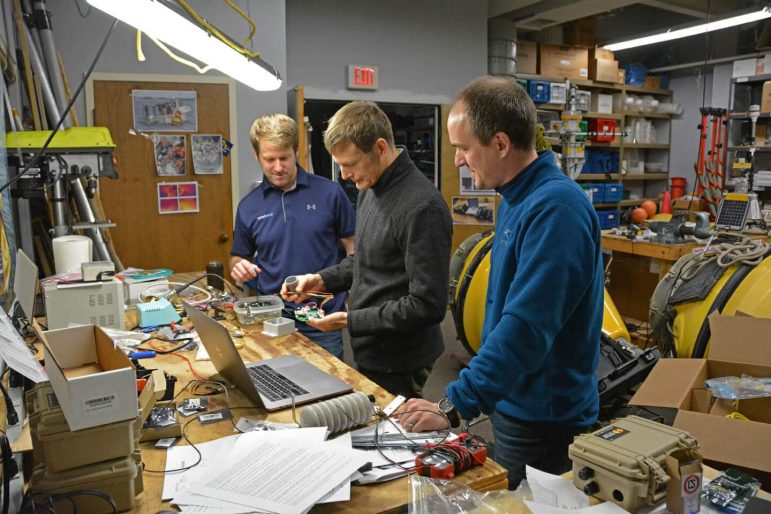 Ed Verhamme, Anthony Aufdenkampe, and Greg Cutrell work on incorporating new sensor technology in the smart buoys at LimnoTech's field laboratory.
WOOD TV, a local television station in Grand Rapids, Michigan, uses footage from the smart buoy webcams during on-air weather forecast segments seen by millions of viewers each week. Meteorologist Ellen Bacca says, "The Port Sheldon and South Haven buoys are a huge asset for us at WOOD TV. Viewers love them, and they give us so much good data when issuing beach and boating forecasts. The buoy cams are especially popular with the public." The smart buoys not only inform boaters of current conditions to improve safety but also are used by the drinking water treatment plant personnel. These smart buoys are part of an early warning system to alert operators of the presence of low oxygen and potentially toxic and harmful algae that may be lingering near water intakes. After the Toledo Water Crisis in 2014, when a "do not drink" advisory was issued for 400,000 area residents for three days, LimnoTech worked to deploy a network of smart buoys near the water intake on Lake Erie. Andrew McClure, Plant Administrator for the City of Toledo's Collins Park Water Treatment Plant, noted that the presence of the smart buoys after the do not drink advisory is instrumental in preventing a future crisis from occurring. "The monitoring buoys near our intake give our operators and water chemists a much better understanding of the changing water quality of Lake Erie. The sensor network allows us to manage chemical feed rates more effectively and anticipate changes before the lake water even reaches our water plant."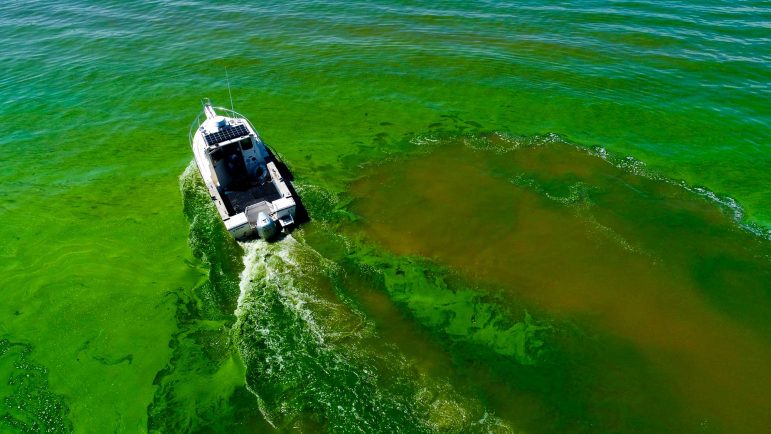 LimnoTech working on Harmful Algal Bloom (HABs) sampling and smart buoy maintenance during a Lake Erie Bloom in August 2019. Photo Credit: David J Ruck, Great Lakes Outreach Media 
LimnoTech has also worked to source buoy components and sensors from locally-based companies. These include buying advanced wave sensors from SeaView Systems in Dexter, Michigan, purchasing new lighter foam buoys from Fondriest Environmental near Akron, Ohio, and acquiring weather sensors from R.M. Young Company in Traverse City, Michigan. Not only does LimnoTech maintain a network of ten of its buoys on behalf of cities, boaters, and water utilities; it has also supported the deployment and building of an additional twenty smart buoys by universities and non-profits throughout the region. The student training, mentorship, and tech transfer provided by LimnoTech is achieved through participation in the Cooperative Institute for Great Lakes Research (CIGLR), which is jointly managed by the NOAA Great Lakes Environmental Research Laboratory and the University of Michigan.
A new partnership with the Cleveland Water Alliance (CWA) in Cleveland, Ohio, allows the network of smart buoys to be used as a testbed site for new tech startups. Executive Director Bryan Stubbs of the CWA says the ability to assist local companies and organizations with testing and deploying new technology is key to attracting more investment in our water infrastructure and economy." One of the largest barriers that new water tech companies face is securing a realistic test location for research, development, and rigorous use of prototypes. LimnoTech gives CWA, and our network of global partners access to experienced Great Lakes scientists and engineers, and most importantly: on-water testing sites for new technology."
The rise in the availability of smartphones by area boaters and water managers has led to an explosion of requests for real-time data from this network of buoys. In 2020, nearly 300,000 unique users requested data over 1.2 million times via text message or by visiting our partner websites. Because the buoys are located closer to shore and near areas of high recreational activity, these buoys have become the most popular network of buoys in the United States as tracked by NOAA. Local boaters have become accustomed to checking for updates from their favorite buoys. Jordan Kit, a captain for Cleveland Marine Towing, who tows in stranded boaters, says data from the buoys is a lifesaver. "The network of weather buoys off Cleveland provides invaluable information that I use every time I perform a tow. Forecasts are well and good, but nothing beats live and accurate data from the water," says Kit.
Watch how LimnoTech supports an early warning buoy system for Lake Erie.
Each smart buoy is funded differently and often by a consortium of local users that depend on real-time observations. Some buoys are funded by federal grants from NOAA, while others are directly funded by water utilities and power companies. Local fishing clubs, marinas, and individual boaters through GoFundMe campaigns have also contributed to the funding of smart buoys.
As LimnoTech celebrates its 10th year deploying smart buoys on large lakes and estuaries, Verhamme notes that the technology has continuously changed and advanced over these last ten years, along with a growing interest in water-based environmental sensors. "Although monitoring systems are becoming more complex, smaller, and cheaper, we are still focused on supporting the people and organizations that are making decisions every day that affect the quality of drinking water for millions and the safety of boaters that venture out onto the open waters of the Great Lakes," says Verhamme.
LimnoTech is one of the country's leading water sciences and environmental engineering consulting firms. Founded in 1975, the employee-owned company is headquartered in Ann Arbor, Michigan.
For more information on smart buoys, contact:
Ed Verhamme
LimnoTech
everhamme@limno.com
734-332-1200