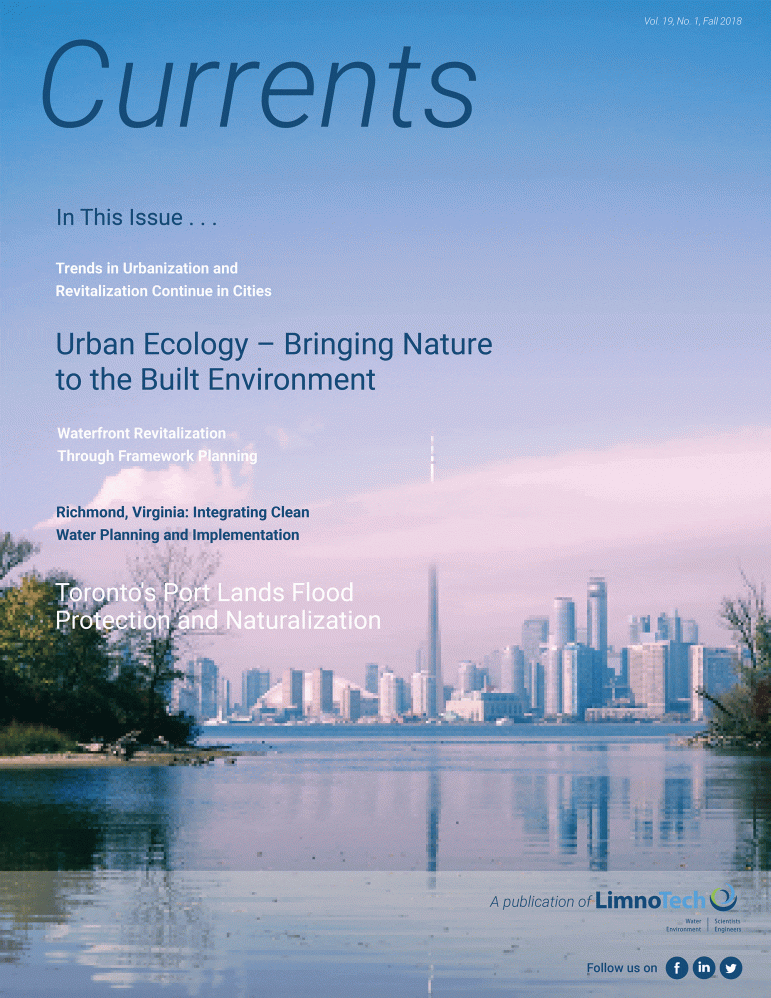 September 12, 2018
LimnoTech's fall edition of our Currents Newsletter is out! We are excited about the theme of this newsletter – Trends in Urbanization and Revitalization Continue in Cities. In this edition of Currents, we decided to take some time to talk about the work happening to create vibrant and sustainable communities in cities across the U.S. and Canada. We cover a range of topics, including urban ecology in the built environment, waterfront revitalization through framework planning in Austin, Texas; Richmond, Virginia's Clean Water Plan; Toronto's Port Lands flood protection and naturalization project; and new park projects in Detroit, Michigan and Dallas, Texas.
At LimnoTech, we are passionate about our role in creating sustainable communities. We are grateful for the opportunity to work with phenomenal clients and fantastic partners. We can't wait to start a dialogue with more people who want to be a part of this important work. As Tim Dekker, LimnoTech President and environmental and water resources engineer, says in his editorial article, "Instead of just fixing the sewer, we're helping create improved urban ecologies, building better places for people to live, and bringing nature closer to people in a way that looks, sounds, and feels right."
We hope you dive into our newsletter and let us know what you think. Feel free to contact any of the article authors (contact information provided in the newsletter). If you would like more information or have any questions, please contact Amanda Flynn at aflynn@limno.com.
To view the newsletter click on the image, the link above or download a copy here.