June 3, 2022
Laura Weintraub, LimnoTech Vice President and Sustainability practice area co-lead, and Tim Dekker, LimnoTech President, attended the 2022 Alliance for Water Stewardship Global Water Stewardship Forum, May 17-19, in Edinburgh, Scotland.
"The AWS Global Water Stewardship Forum is one of the key events in which our community of members, implementers and stakeholders share knowledge and learning on the evolution of water stewardship practice and forge new directions through dialogue and partnerships." – Alliance for Water Stewardship
Laura was a co-presenter during the Food and Beverage (F&B) sector session, focusing on "lessons and opportunities emerging from the F&B sector." The session aimed to engage the diverse community of water stewardship practitioners and experts, in the room and online, in group conversations on how the global community can use the vanguard experience of the early adopter implementers within the F&B sector to drive scale in both the adoption of the AWS site-catchment standard and participation in collective actions.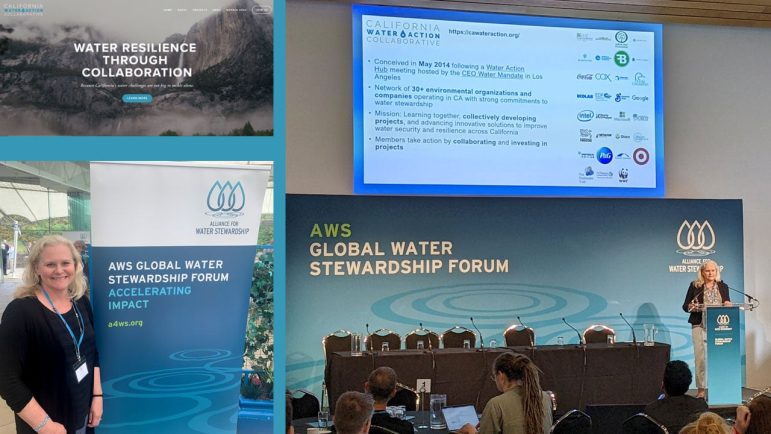 Laura also served as a co-facilitator and shared learnings from two initiatives, the California Water Action Collaborative (CWAC) and the Texas Water Action Collaborative (TxWAC). While these collaboratives are entirely separate from AWS, they have several AWS implementing sites and companies and consultants within its cohort, many of whom are from F&B. Laura focused on key learnings from the process of setting up and running the CWAC and TxWAC and provided advice that is transferable to other settings. Laura explained that knowledge gained from these and other collective actions around the world is an asset that the global community can leverage. Laura closed with a key question for the participants to consider: How to enable collective actions in places all around the world?
This session was co-organized by the Alliance for Water Stewardship, LimnoTech, Quantis, Royal HaskoningDHV, and South Pole.
Reflecting on her time at the forum and the session, Laura shared a few key takeaways:
"Companies have clear ambitions to drive positive impact in watersheds but sometimes need direction on how to make that happen. NGOs seek additional resources to get watershed and community projects on the ground. Collective action platforms are a key element for success in water stewardship. Relationship building and "matchmaking" between project implementers and water stewardship-focused companies can help bring like-minded groups together to accelerate positive change."
Laura's presentation can be viewed here.
During the AWS Member Updates session, Tim Dekker shared the NBS Benefits Explorer, a tool that could help inform water stewardship investments in Nature-Based Solutions (NBS). The tool is part of the Benefit Accounting of Nature-Based Solutions for Watersheds project undertaken by the United Nations Global Compact CEO Water Mandate, Pacific Institute, The Nature Conservancy, Danone, and LimnoTech.
Tim shared how the tool can support NBS benefit identification and provide indicators and calculation methods to support benefit accounting:
"One of the biggest barriers to successful NBS implementation is just getting started – finding out what kinds of actions are possible and what kinds of benefits can be realized. The tool is a great way to get over that obstacle and learn about benefits, co-benefits, and ways to measure success."
Tim's presentation can be viewed here.
If you have any questions about water stewardship, sustainability, or tools to inform NBS, reach out to Laura at lweintraub@limno.com or Tim at tdekker@limno.com.